Note this new web page format functions as a blog, which means you can add your comments or reactions to our articles. Scroll down to the bottom of any page to read existing blog entries or add your own entry.
September 2019 President's Message:
Hello Bobcat Nation!
We have lots going on in our group and school right now.
We are hosting our third annual Bobcat Honoree dinner on September 19
th
. This year's group includes Tony Garrobo who worked for Benson School for 38 years and has supported the sports program there for many years. His wife Evelyn and three sons are all Bobcats. Tom and Nancy Adams from G & F Pizza. They have supported the community and especially our school many different ways over the years. All of their children are also Bobcats and their son Mark is continuing the tradition of giving back. Dr. David Woodall was Superintendent in Benson from 2006 through 2014 and took our schools to the number 1 school before following his family back to Morenci.
Tickets can be purchased from any board member or at the district office – $20 if you are a paid alumni member $25 if not and children 11 and under $10 – adult dinner will include steak and the fixings, while children will get macaroni and cheese and the fixings including dessert.
During dinner we will honor our inductees as well as have a live auction including a Stihl saw from Elite Sales and Service (Ellis and Kim East) Diamondback tickets, signed ball and picture (Richard Saenz), Sugar Skull tickets & Rattler's tickets (Gaylee Hogue) VIP Butterfield Rodeo tickets including dinner (Heather Grubb Floyd), 2 rounds of golf for four man teams to the San Pedro Golf Course (Councilman Nick Maldonado), and more. We will also have a mini Trivia game from our fundraising Trivia Nights returning in the fall and sponsored by G & F Pizza as well as a 50/50 raffle.
There are also lots of reunions in the works. The ones we know about are class of 2000 -Per Samantha Compton – The reunion will be piggybacking homecoming this year and what the 30-year class is doing. Game with half time announcements, Arena Bar afterwards, Saturday picnic at the park 12pm-6pm.
The classes of 87 thru 91 have a FB page – BUHS Classes of '87, '88, '89, '90, '91 30-year Reunion and if you haven't yet, you can submit your information on this form
The classes of 68, 69 and 70 will be having their 50
th
reunion November 1, 2 and 3
rd
. Their FB page is BUHS 68-69-70 Class Reunion – not much happening until after the Alumni annual dinner, but please pass the word.
The class of 1959 is also having a gathering for their 60th Class Reunion on Saturday October 26. Call Barbara Blakey Adams 480-994-0077 for details
The Benson Schools continue to grow in many ways, buildings, classes and students. Check out their FB page and website for all the up to date info. We were able to give over $5,000 in scholarships this year including the one in Chic Maldonado's memory. All donations are tax deductible so please consider helping us continue to grow in the amount we can give back.
Hope to see you soon at the dinner, reunion or both.
Remember
ONCE A BOBCAT ALWAYS A BOBCAT!!
Judy Thompson
President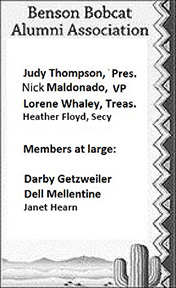 ---
Advertisement Rates:
Business
card
size ad $10 Quarter page ad $25 Half page ad $50 Full page ad $100
All revenues go towards the
Scholarship
Fund Contact
Dell
Mellentine at
dellmellentine@gmail.com
---